Bei der Ableitung eines Templates (Windows Server 2008 R2 Datacenter Ed.) erhielt ich reproduzierbar diesen Fehler:
Die Antwortdatei für die unbeaufsichtigte Installation für Durchgang [specialize] konnte nicht analysiert oder verarbeitet werden. Die in der Antwortdatei angegebenen Einstellungen können nicht angewendet werden. Der Fehler wurde beim Verarbeiten von Einstellungen für die Komponente [Microsoft-Windows-Shell-Setup] erkannt.
Beziehungsweise für Systeme in englischer Sprache:
Windows could not parse or process the unattend file for the pass [specialize] the settings for the specified in the answer file cannot be applied. The error detected while processing settings for the componnent [Microsoft-Windows-Shell-setup].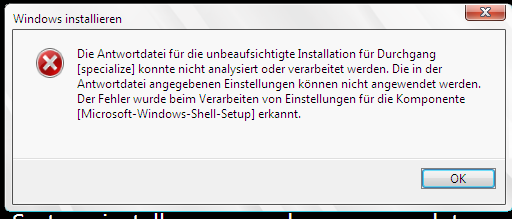 Die Lösung ist recht simpel, kann aber viel Zeit kosten bis man die Ursache gefunden hat.
Ich hatte in der Anpassungsspezifikation den Lizenzschlüssel eingetragen, allerdings anstatt der Bindestriche zwischen den Blöcken Leerzeichen gelassen.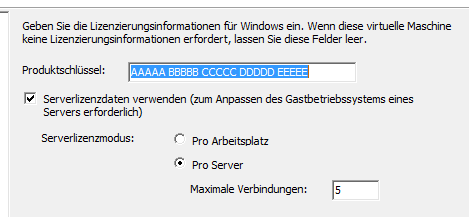 Das schmeckt dem Sysprep nicht und es wirft obigen Fehler.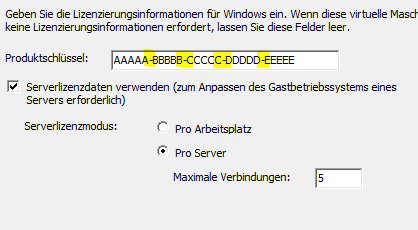 Mit Bindestrichen gab es keine weiteren Probleme und die Anpassung lief durch.