Do you like VMware Hands-on-Labs? I bet you do! If you're coming to VMworld 2019 Barcelona you can prove your skills in an awesome competition and maybe become an Odyssey Champion.

Form a team with up to 3 members or join an existing team and compete with other teams in the VMware Odyssey Cup. There will be 24 teams all together and they have to complete tasks in Hands-on-Labs. Teams will be judged by accuracy and time to complete the tasks in the lab. There'll be labs about vSphere, vSAN, Horizon and vRealize Automation. You'll need some free time slots in your VMworld schedule on Tuesday and Wednesday and if you're successful for the finals on Thursday.
Tuesday, November 5, 2019 | 3:00 PM – 4:30 PM
Wednesday, November 6, 2019 | 3:00 PM – 4:30 PM
Thursday, November 7, 2019 | 10:30 AM – 12:00 PM
Prizes
Members of the winning team will get a new MacbookPro. The second best team will get an OculusGo for each member and every participant will get a cool Odyssey jacket.
Tournament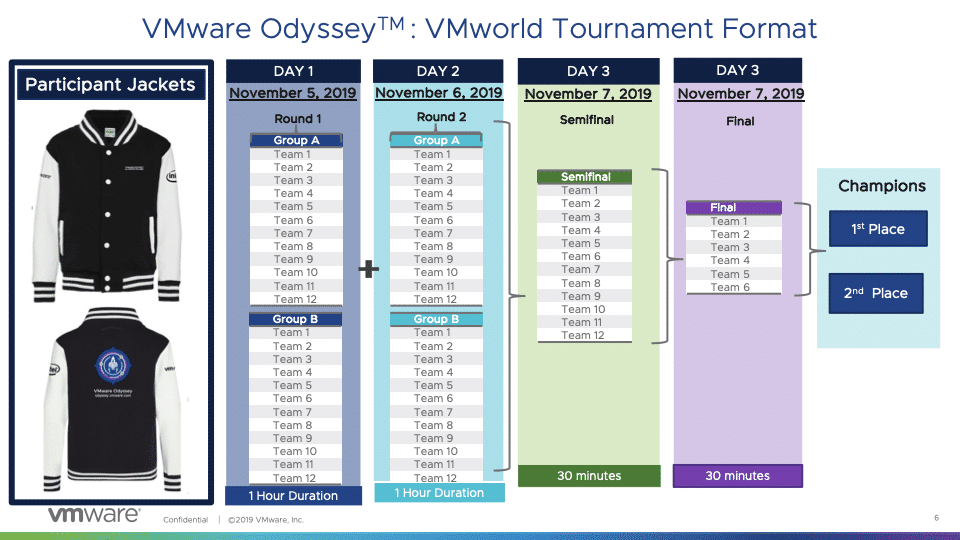 Register
Interested? Then hurry up and register for VMware Odyssey by Hands-on Labs. It's also possible to register on site at the Odyssey info desk on Monday.
Ich you have further questions, please email odyssey-support@vmware.com
Links