Wenn es darum geht, Installationsmedien in eine VM zu bringen, so bin ich ein großer Freund von ISO-Dateien, die auf einem der ESX Datastores liegen. Das gelingt immer und klebt nicht. In selteneren Fällen binde ich ein ISO vom lokalen Rechner in die VM ein und sehr selten eine echte DVD vom lokalen Laufwerk. Mit so einem Szenario hatte ich heute Probleme und erhielt folgende Fehlermeldung:
The remote device on <host> connected to Z:\ is disconnected.
bzw.
Das mit <Host> verbunde Remotegerät auf Z:\ wurde getrennt.
Immer, und immer wieder. Ein Bootvorgang von DVD war damit nicht möglich. Zur Lösung des Problems gibt es einen KB-Artikel bei vmware.
Rechtsklick auf das Icon des vSphere-Client > Eigenschaften
Register "Kompatibilität" wählen, den Haken bei der Berechtigungsstufe setzen und übernehmen.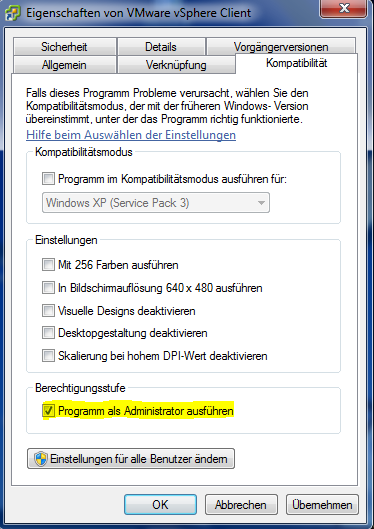 Kleines Häkchen – große Wirkung. 🙂 Danach klappt es auch mit dem remote CD-ROM.