2-days – Level 300 Event – September 20th and 21st
Join VMUG DK for an immersive experience where you'll explore the intricacies of VMware's cutting-edge technologies and gain in-depth insights from industry experts.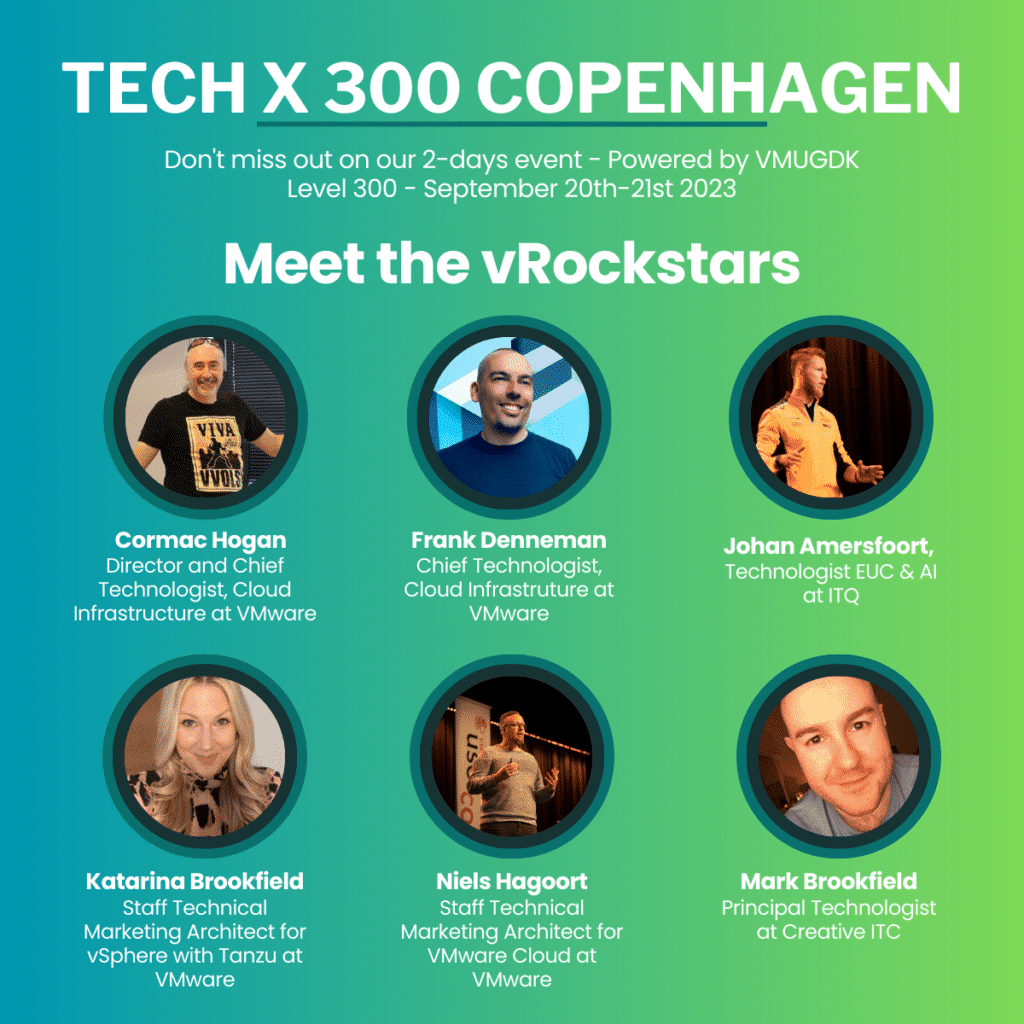 On 20th to 21st September VMUG DK will be hosting a Level 300 deep technical event in Copenhagen, and you are invited to join. Whether you're an IT professional, a system administrator, or a technology enthusiast, TechX 300 is your gateway to unlocking the full potential of VMware solutions. Get ready to elevate your expertise and shape the future of virtualization at TechX 300!
This will be a hardcore technical event hosted by hardcore techies for hardcore techies. We consider this to be an extension of VMware Explore and the focus will be on creating the opportunities you need to interact with speakers and engineers in the Breakout, Lightning, and Community sessions, as well as at Meet-the-Experts, in smaller group discussions, in the Solution Exchange, and during the overall event.
These are some of the experts that have already confirmed for TechX300:
Cormac Hogan, Director and Chief Technologist – Cloud Infrastructure at VMware
Frank Denneman, Chief Technologist – Cloud Infrastructure at VMware
Johan Amersfoort, Technologist EUC & AI at ITQ
Katarina Brookfield, Staff Technical Marketing Architect for vSphere with Tanzu at VMware
Niels Hagoort, Staff Technical Marketing Architect for VMware Cloud at VMware
Mark Brookfield, Principal Technologist at Creative ITC
Let's make it easy for you to join
If you are joining us from outside of Denmark, we will help make your trip and stay in Copenhagen as smooth as possible. Your local VMUG community can provide you with suggestions for hotels, restaurants, and optimal flights and you will also have the chance to travel as a group. Please reach out to your local community if you would like more information after registering for this event. If you are unsure about which local community you belong to, please feel free to reach out to VMUGDK, and we will assist you in finding the relevant contact information.
Attend the TechX 300 Copenhagen to:
Participate in technical deep dives led by a variety of industry experts
Expand your network with like-minded IT professionals
Learn about the latest products and solutions from trusted VMUG partners
Win cool SWAG & prizes
Location
Palads Cinema, Axeltorv 9, 1609 Copenhagen V
Call for community sessions
Calling all tech enthusiasts and subject matter experts! Are you passionate about a specific VMware-related topic within the realm of advanced technology? At TechX 300, we're excited to offer the opportunity to showcase your expertise through our Level 300 Community Sessions.
We believe in the power of community-driven knowledge sharing, and that's why we're opening the doors for you to contribute to the event. To apply for a Level 300 Community Session, simply submit your session proposal highlighting the key takeaways, the target audience, and the VMware-specific expertise required.
Please fill out the form: Call for papers
Register
Register for TechX300