I'd like to point your attention to a new and useful feature which was introduced with vSphere 7 update 2. It is easily being overlooked in the abundance of new features, but it does a very good job in the prior to a vCenter update.
A requirement for the Update Planner is participation in the Customer Experience Improvement Program (CEIP).
The first sign of a new vCenter update is a notification banner at the top of vSphere Client.

Clicking on "View Updates" will take you directly to the Update Planner. This can also be found in the menu. To do this, select the vCenter in the Hosts & Clusters view and select "Updates" > vCenter Server > Update Planner in the menu bar at the top right.
All currently available updates are being displayed. In the case shown below, the vCenter is already at 7.0 Update 2, so only one possible update is listed. If several possible updates are available, the Update Planner can check the compatibility against all of them. To do this, select the radio button of the desired update (red box).

Once an update is selected, the action field "Generate Report" turns blue and shows the two possible sub-items "Interoperability" and "Pre-Update Checks".
Interoperabilty Checks
The Interoperability Check verifies not only the ESXi hosts but also the compatibility with other VMware products registered in vCenter.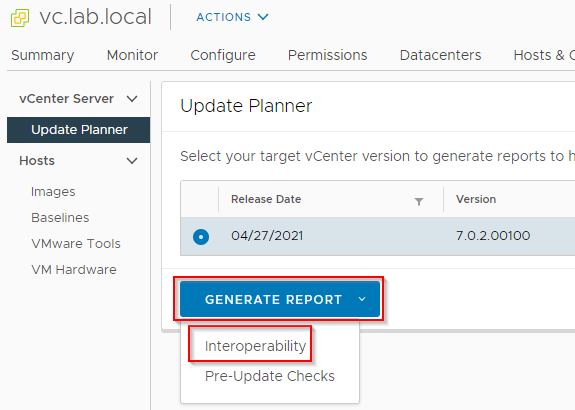 Continue reading

"vCenter Server update planner at work"