Am 5. Juni 2019 öffnen sich die Tore für das VeeamON Forum Deutschland 2019 im RheinMain CongressCenter Wiesbaden.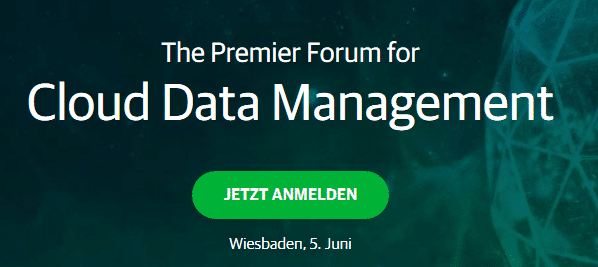 Neben Vorträgen zu allgemeinen Neuerungen und Berichten von der VeeamON 2019 in Florida (20. Mai – 22. Mai 2019), wird es zusätzlich drei Technik Tracks mit parallelen Breakout Sessions geben.
Agenda
Begrüßung durch Gerald Hofmann, Vice President Central EMEA
Understanding the Availability Gap, Daniel Fried, General Manager & Senior Vice President Veeam Software
Ihr Navigations-Guide für Veeam Availability for AWS, N2WS Backup & Recovery und Veeam External Repository, Thomas Behr, Cloud Manager und Alex Thomson, Director of Sales bei N2W Software
Better Together – Veeam Tech-Talk, Herbert Bild, Alliance Manager
Sneak Peek at 2019 Releases from Veeam, Anton Gostev, Senior Vice President, Product Management
Cloud Tier Deep Dive & Best Practices, Stefan Zimmermann, Solutions Architect
Technik Track A
Veeam Availability Suite, Christian Stein, Systems Engineer
Veeam Backup for Microsoft Office 365, David Bewernick, Systems Engineer
Veeam Backup & Replication: Best Practices, Marco Horstmann, Senior Systems Engineer
Technik Track B
Veeam Backup for Microsoft Office 365 – Best Practices & Sizing, Benedikt Däumling, Systems Engineer
Veeam-Hybrid-Azure-Szenarien, Marc Heuser, Systems Engineer
Veeam Plug-ins for SAP und for Oracle, Clemens Zerbe, Solutions Architect
Technik Track C
Veeam Agent for Microsoft Windows, Matthias Mehrtens, Solutions Architect
Moderne Disaster-Replication-Modelle und deren Orchestrierung, Tobias Gietz, Systems Engineer
Veeam ONE: Deep Dive für große Umgebungen, Stefano Heisig, Senior Systems Engineer
Medien Partner
Neben den interessanten Vortragsthemen gibt es für mich zwei weitere Gründe, zur VeeamON Forum 2019 zu gehen. Als offizieller Medienpartner werde ich hier auf ElasticSky.de über das Event bloggen und Kurznachrichten über Twitter senden. Zusätzlich werde ich die neu gegründete Veeam-Usergroup Deutschland am eigenen Messestand vertreten.