Sometimes you may wish to send attachments, that are far too big for an email. Of course you can upload the file to your cloudserver beforehand, then share the link and copy/paste that link into your email. Possible, but cumbersome.
If your private cloud is Nextcloud, then there's good news for you. Nextcloud developers released an Outlook-plugin that ist very useful and shortens the process. Just download the free plugin (lastet version). Choose x64 or x86 setup file according to your Office version.
At the next startup of Outlook the plugin will ask for connection details to your Nextcloud server.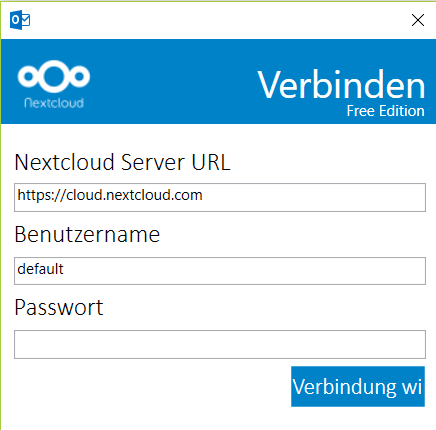 After a successful connection the plugin will create an new folder "Outlook" on your Nextcloud server. That's where files from Outlook will be uploaded to.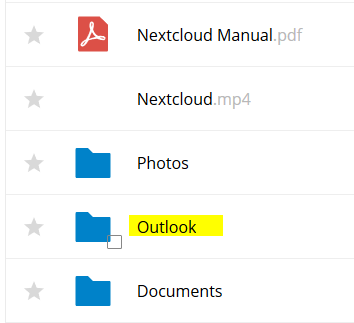 You will also find an additional Nextcloud-tab in Outlook when you write your next email. There are two options:
Upload the files to Nextcloud and share them
Share a folder on your Nextcloud server for your recipient to upload files

There are two corresponing folders within your Outlook folder on Nextcloud. Upload-Files contains the files you've uploaded to share with your recipients and Public-Share contains session folders to which recipients can upload their files to you.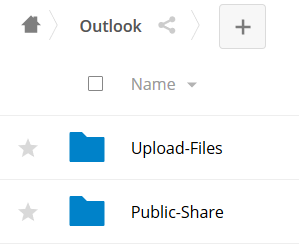 Sharing files
I'll show the upload of a RAW picture (21 MB) which ist too big to send as an attachment. You can browse your PC for files and select them. THere's also an option to set a deadline for sharing.
German captions do not yet fit nicely into dialog boxes – but hey, it's beta and it's free 😉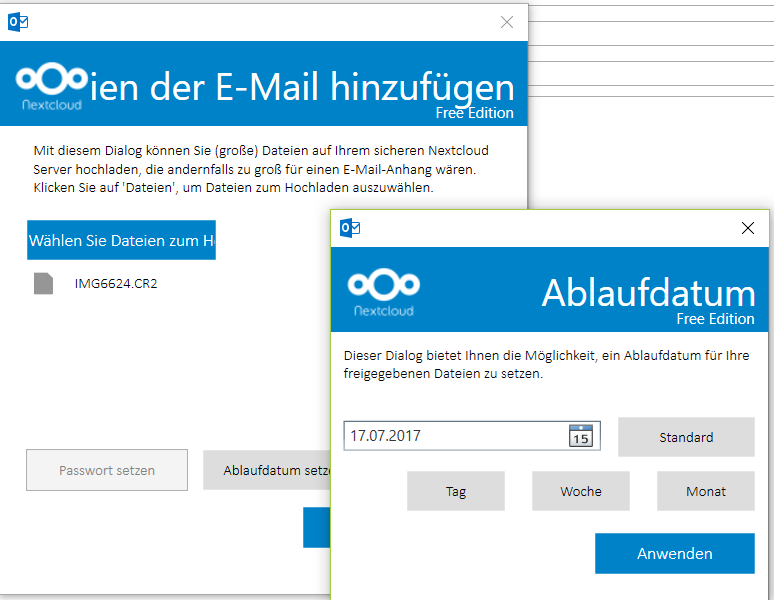 After you've uploaded your attachment, your email will look like that: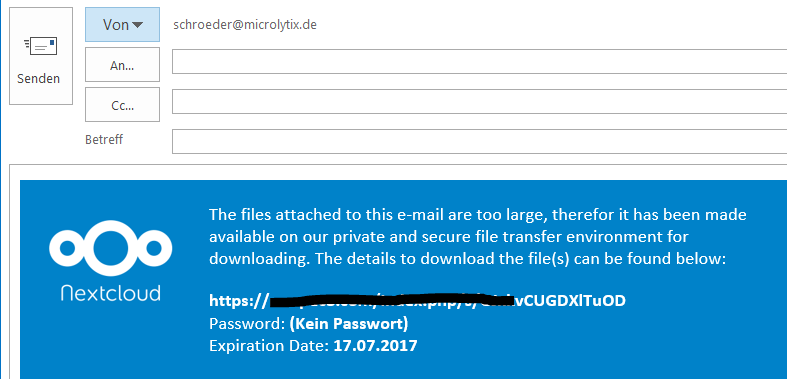 Your recipient can now klick on the link and download the file, which BTW doesn't blow up his inbox.
Sharing folders
The second option creates a shared folder to which your recipient can upload files to your Nextcloud server.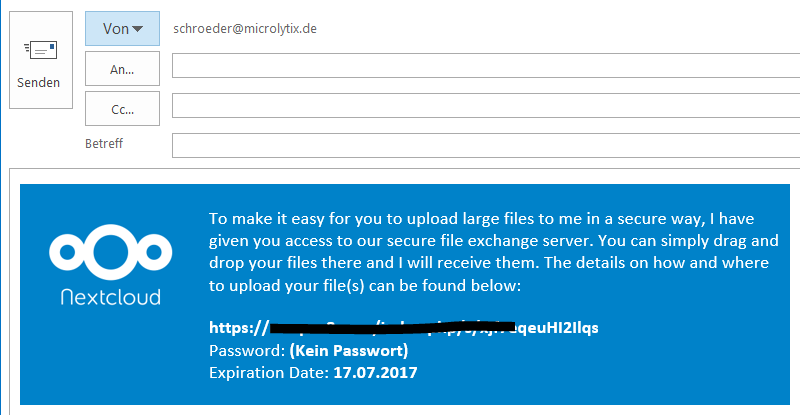 By clicking the link your recipients will get access to that special folder and they can upload their files.
Each session will create a new folder with a cryptic name. So different recipients can't see what others have uploaded in the past.
Links