I'm a great fan of vSphere-Client a.k.a HTML5 client. The user interface based on project clarity is an eye catcher and the user experience is great. But sometimes you're forced to use the old Flash based flex-client. Not with latest vCenter Server 6.7 but with older releases like vSphere 6.0.
We were facing compatibility issues between flex-client 6.0 and NSX 6.4.4 although it's a supported combination.
Recently we had to migrate a customer's environment from deprecated vShield (which is EOL since 2016) to NSX. It was the first step in a longer upgrade path with many cross dependencies of many products. The customer was running the latest VCSA 6.0 U3. So we've checked the VMware Product Interoperability Matrix for vCenter/NSX compatibility.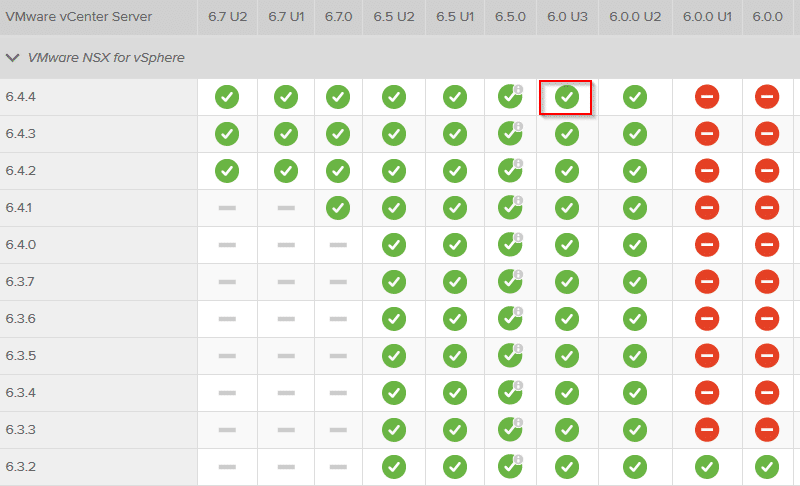 We've opted for the latest possible NSX version (6.4.4) at time of writing that is compatible with customer's current vSphere version (6.0U3) and future vSphere versions (like 6.5 U2).
Deployment was easy. The customer only uses NSX guest-introspection with Trendmicro DeepSecurity. All helper appliances were rolled out automatically without any issues. I was pleased to see slight improvements in the NSX-plugin user interface. It now has more dialogues in clarity style. Great! So we began to configure policies for guest introspection.
Dude, where's my dropdown?
We had precise documentation of a similar migration we did in the past. So we knew what to do and where to do it. Some dialogues had changed, but that wasn't a problem until we reached a step where we were supposed to select a profile from a dropdown list.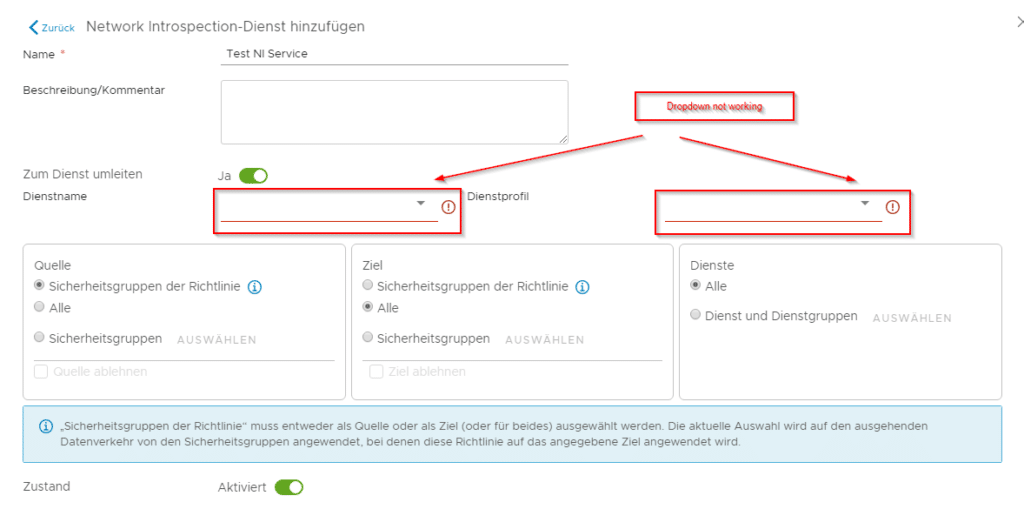 In the dialogue above you have to select a service name (left) and a corresponding service profile (right). Both dropdown elements did not work. We tried to trace down the problem with different browsers and with/without client integration plugins, but nothing helped. So we had to bite the bullet and roll back our NSX 6.4.4 setup. Our service window was about to close so we decided to go back to a version 6.3.2 that we had used in a different setup.
As you can see below, the same configuration step has a different UI. While NSX 6.4.4 has a HTML5 design (even with the flex-client!), there is the classic flash UI in version 6.3.2 and this one is fully functional.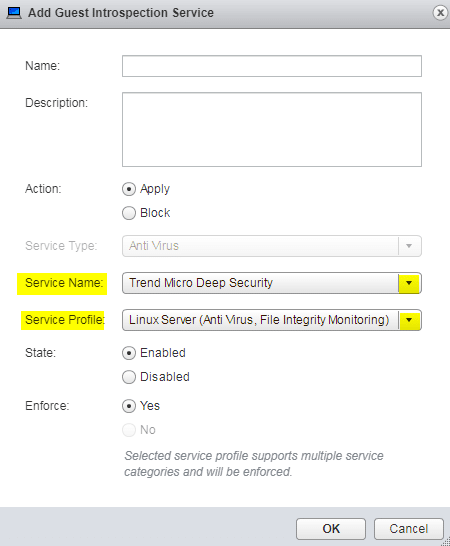 If you have a look at the release notes of NSX 6.4, there have been some adjustments to integrate HTML5 elements into flex-client. Basically a good idea, but it doesn't work properly with vSphere 6.0.
Links
https://docs.vmware.com/en/VMware-NSX-Data-Center-for-vSphere/6.4/rn/nsx-vsphere-client-65-functionality-support.html