Recently I was trying to roll out an ESXi on Cisco UCS C240 which was equipped with a local twin-SD FlexFlash card. Destination disk was discovered by ESXi setup but during installation we encountered an error:
"partedUtil failed with message: Error: Can't have a partition outside the disk! Unable to read partition table for device /vmfs/devices/disks"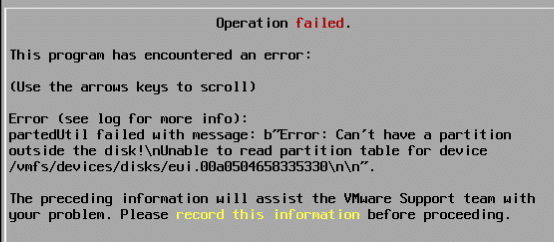 We first assumed a defect on the card, but we could reproduce the effect on a second server too. After some investigation we figured out that we have to reformat the flash media. We were using the HTML5 client of CIMC. Unfortunately it has no format disk function.
Format Disk
But it is possible, although not visible in first glimpse.
Go to Storage in the left hand menu of CIMC and navigate to Cisco FlexFlash. Select virtual drives and mark the drive named "Hypervisor".

Click on "Erase virtual Drive" and confirm action. Wait for Operation Status to show Erase-Success in FlexFlash Logs.
Disable and re-enable virtual drive
Make sure drive "Hypervisor" is still selected, click on "Disable Virtual Drive" and confirm action.

Re-enable virtual drive with same action button. Caption is now "Enable Virtual Drive" and confirm action.

Your virtual drive is now ready for ESXi installation.