During a cluster routine check with RVtools I've seen a warning.

Warnings like this on a vCenter appliance let my alarm bells ring. Partitions filling up close to 100% are not a desirable condition. But let's have a look into VAMI (vCenter Appliance Management Interface).
https://<vcsa_FQDN>:5480

Now that's strange. Everything seems to be in a green state. It's a VCSA 6.7 Update 2a (6.7.0.31000). Older versions did show a storage warning. "File system /storage/archive is low on storage space". But this appliance seems to be happy. Let's have a look at the shell, to see what's really happening.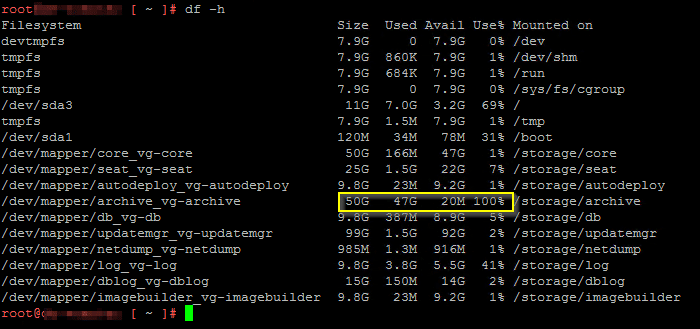 It looks like mount point /storage/archive is almost filled up.

The main part of it accounts for folder /vpostgres. If you look into it you'll find thousands of zipped archives.
la -1 | wc -l

In this case we could count more than 10,000 gz-files.
Call the Fire Brigade?
One might be tempted to clean up these archives in order to get some more free space. But after some time the folder would fill up again. The mystery behind these files is that the partition is meant to fill up. An automatic procedure will delete the oldest files to make room for new ones. It is explaines in KB57829 "File system /storage/archive is low on storage space". Older versions of VCSA before 6.7 U2 used to thow a storage warning in VAMI. This behaviour has been fixed in the meantime.
Listen to Bob Marley and sing: Don't worry! Everything's gonna be alright. 🙂