If you have joined VMware Customer Experience Improvement Program (CEIP), you're able to use Skyline-Health in your cluster. In older versions of vSphere/vSAN this feature used to be called vSphere-Health and vSAN-Health respectively. They both have been renamed to Skyline Health. You can access Skyline-Health in the vSphere-Client by navigating to Monitor > vSAN > Skyline-Health.
Today I've seen a warning after powering on up my homelab.

Drilling into details showed one of 4 hosts issued a warning: "Proactive rebalance is needed".

Usually a vSAN cluster will distribute load amongst capacity disks automatically. For some reason that wasn't the case in my homelab. But there's help. You can click on "Configure Automatic Rebalance" directly from Skyline-Health (see picture below).

You'll be redirected to vSAN cluster configuration. As you can see in the screenshot below, my cluster wasn't configured for automatic rebalance.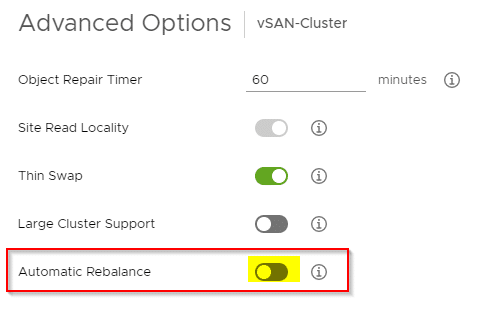 Just move the slider and vSAN will automatically start to balance disks. A couple of minutes later the warning had switched to green. Depending on the cluster load and how imbalanced the capacity disks are, this process might take a while.

Links
VMware KB 2149809 – vSAN proactive rebalance