VMware Explore 2022 has come to a close. Four days packed with information, conversations and activities. Now it's time to pause and take a recap of the last few days. I won't go into technical innovations, products or announcements here. I will write separate technical articles for that and there is also the VMware Explore Video Library with numerous videos including a recording of the General Session and many of the Breakout Sessions. Instead, I would like to go into things that I liked very much and also those that have potential for improvement. Not all points concern VMware itself – in many cases they are things that were good or not so good at the sidelines. Perhaps it will inspire some readers to consider a visit to VMware Explore in the future.
A Plus – VMware Explore 2022 on site in Barcelona
The fact that after two cancelled VMworlds (yes, World) an on-site event took place again is a big plus. No matter who I asked in the last few days – everyone was tired of the virtual meetings and was looking forward to the personal contact. From this perspective, VMware-Explore 2022 was bound to be a success.
A Plus – Public Transport
The Fira is located just outside the city center. So for those who have accommodation in the center, there are twice daily trips by public transport. Barcelona's metro system is well organized and the trains run at a tight schedule. I rarely had to wait more than 5 minutes for a connecting train. The tickets are cheap and VMware gave out cards of 10-rides at registration. But you have to ask for them. Even if you buy a 10-rides ticket for the Barcelona city area yourself, it currently costs less than €8. This has even become a little cheaper compared to 2019.
The transfer to and from the airport is also cheap and reliable. A special airport bus runs at short intervals between the terminal and the city center (Placa Espana and Placa Catalunya). Pro tip: Buy a return ticket straight away, it's cheaper.
Attention. After midnight, many lines close down. So night owls should have some cash ready for a cab, or plan a long walk to the hotel.
Blogger Program with Potential for Improvement
There were only 15 blogger passes in total, which is very few if seen in terms of the entire EMEA region. This also hit some of my fellow bloggers who had been providing excellent VMworld contributions for many years in a row and now surprisingly missed out.
At this point I would like to thank Elisabeth Kefal, who included me in the official program in the follow-up.
To clarify, this is not a full travel package. All bloggers always finance flight and accommodation on their own. Only the admission pass to the VMware Explore is sponsored by VMware. So costs can only have played a minor role.
After all, it's the bloggers who have a deep reach into the community in their respective countries and beyond. I don't like the word "influencer," but it does come pretty close to the role of tech bloggers. Let's call them "community networkers." They are mostly the same people who are active in the VMware User Group (VMUG) and maintain close contact with the user base there.
The current practice should be reconsidered here. Instead, it would be nice to prioritize inviting bloggers in the future who are not only seasonally active during the 4 days of VMware-Explore, but who keep the community together all year round and constantly deliver valuable content.
Plus Point – Breakout Sessions Offering
As in previous years, the range of breakout sessions in 2022 was enormous. There was information on a wide variety of topics, so there was definitely something of interest for everyone. Sessions that were experiencing high demand were subsequently offered several times. Even those who did not get a seat at the first presentation had a new chance in one of the repeats. VMware reacted dynamically to the demand. A clear plus for this. Well done!
Needs Improvement – Where is the Blogging Area?
As a blogger, you need a place where you can retreat and sort out your thoughts and publish them in posts. For the first time, there was no designated blogging area anymore.
In the VMware Code Theater area, there were two tables used by bloggers and others, but they were in the direct neighborhood of the vBrownbag sessions. Thus, there was not the necessary silence here and in return, conversations of the bloggers disturbed the speakers in their sessions.
It doesn't take much for a blogging area. Two to three tables with electricity somewhat away from the crowds and the bloggers are happy.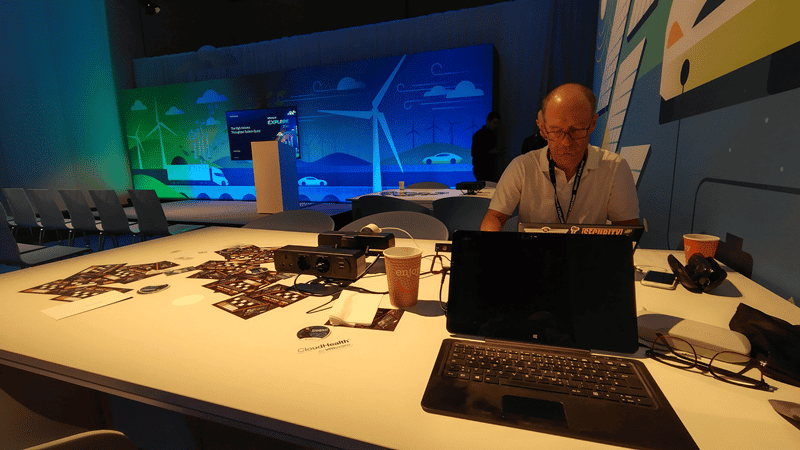 Plus Point – Supply and Catering
Traditionally, the supply of drinks and food was also very well organized at past VMworlds in Barcelona. There are drinks distributed everywhere. Everyone received a water bottle at the beginning, which could be filled again and again at the numerous water dispensers. An extra plus for saving beverage cups. The catering is also organized in a decentralized way. There are two main areas for lunch and many small stations with snacks near the breakout rooms and the expo. There were fruits and the delicious Catalan boccadillos (small sandwiches).

Drawback – Evening Program without Spouses
Vendor parties are an essential part of the evening programs. This is where networks are widened and friendships cultivated. They are a showcase for the companies and increase their reputation. Separate tickets must be reserved in advance for these, as demand is naturally high.
Of course, these events are reserved for VMware Explore visitors. However, spouses or life partners were often admitted, provided they could show a reserved party ticket. Not so this year. On the day of the event, for example, an email was sent to everyone who had reserved a ticket:
"Spouses will only be permitted to enter if they have a VMware Explore badge"
Not cool, guys!
I won't reveal the vendor by name here. It is somewhat disappointing to be an evangelist for the software for over a decade and then have your partner disinvited (ticket was reserved). Yes, it's your party with your rules. I just didn't feel welcome.
I therefore decided with a fellow blogger to stay away from the celebration. Thus: No tweets, no articles. For me, the most unpleasant point of the past week.
However, so that this doesn't rub off on the generally positive image of VMware Explore, here are three more pleasant points… 🙂
Plus Point – Hands-on-Labs
As in previous years, there was again a very wide range of hands-on labs. Not only the selection of labs was good, however, but also the availability of seats. The HOL area took up a central space near the breakout sessions and offered everyone the opportunity to test products live. The effort the VMware HOL team puts into this is remarkable and deserves a thumbs-up.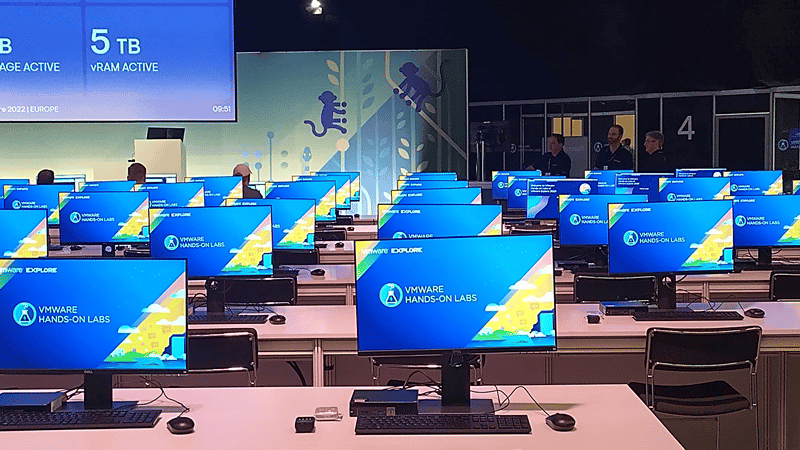 Plus Point – The Expo
I assign this plus point from the visitor's point of view. There are indeed fewer exhibitors this year, but in my opinion, this makes the entire Expo a winner. The aisles are wider, clearer and less cluttered. Highlights of the Expo for me are the Welcome Reception, where snacks and drinks are served in the expo area while you relax and chat with colleagues and exhibitors. The same goes for the Hall Crawl just before the Party.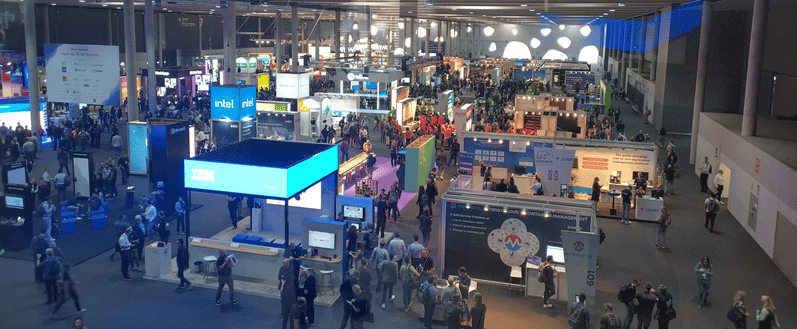 Personal Plus Point – Flashback to the 80s
I was especially happy about the band at the VMware Explore Party. A leap back in time to the 80s with Simple Minds. Most of the (older) visitors probably knew them from events like "Rock am Ring" or similar. In any case, they cheered along with sure lyrics. Great!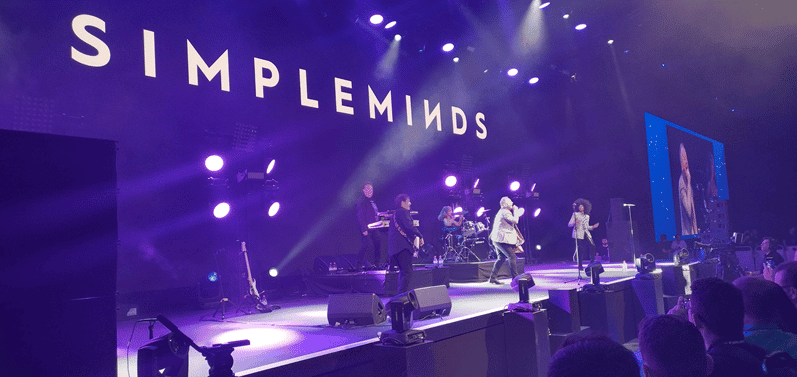 Outlook
The future is a road in the mist. We don't know what impact the acquisition of VMware by Broadcom will have. Nevertheless, I hope that we will meet here again in a year's time and learn something new from the virtualization/cloud area.
An official date for VMware-Explore 2023 has not yet been announced.