Core Platform Enhancements
Native File Services for ESA
One of the missing features was native file services capability for vSAN ESA. With vSAN 8 Update 2, the Express Storage Architecture (ESA) is now feature parity with the legacy vSAN Original Storage Architecture (OSA). It will support SMB and NFS protocols for standard and cloud native clients. Native File Services will also be available in vSAN Max clusters because they're built on vSAN ESA. In addition to the feature itself, you can take advantage of ESA's inherent space efficiency, performance and smaller failure domains.
Support for VMware Cloud Foundation
VMware Cloud Foundation (VCF) version 5.1 will support vSAN 8 Update 2 ESA. The management domain will run on vSAN ESA while the workload domains can be based on combinations of vSAN ESA, vSAN Max, vSAN OSA or vSAN Compute Clusters (vSphere).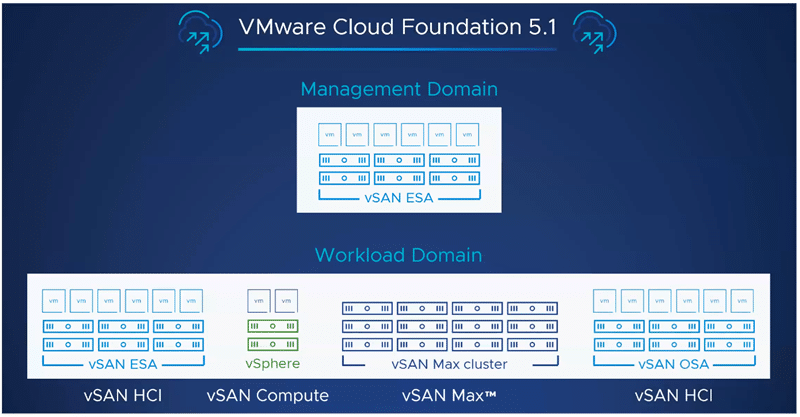 Higher Throughput & Lower Latency on Write Intensive Workloads
VMware vSAN 8 Update 1 introduced adaptive write path optimizations for vSAN ESA. This allowed data to be written in an optimised way based on the size of the incoming I/O. This had a significant impact on write performance. In each data path, there's a mechanism called memory i/o banks, which assembles the data to be written, fully aligned to the data store. There used to be a limited number of these i/o banks. In Update 2, there's a dynamic allocation of these i/o banks. So incoming I/O can be processed at a higher rate. This will result in higher IOPS, higher throughput and lower latency.
Improved parallelism with vSAN ESA's object manager client
Update 2 introduces offloading mechanisms at higher levels of the vSAN stack by increasing throughput using helper threads. Functions such as compression and encryption will benefit the most.
New ReadyNode profile for small data centers and edge environments
Update 2 introduces the entry-level ESA-AF-0 ReadNode targeted at small data centres and edge environments. This will dramatically reduce TCO while still benefiting from ESA features and capabilities.
Node Capacity: 3.2 TB
Cores per node: 16 (vs 32 from former minimum ESA-AF-2)
Memory: 128 GB (vs 512 GB)
Storage devices: 2 (vs 4)
Network: 10 GbE (vs 25 GbE)
New ReadyNode Device Types
All ESA ReadyNodes (except ESA-AF-8) support lower endurance read-intensive (RI) storage devices. These devices typically have an endurance of 1 drive write per day (DWPD). Previously, only high endurance Mixed Use (MU) devices with at least 3 DWPD were supported.
Important: It's not allowed to mix MU and RI devices within a cluster.
RI – 1 DWPD, min. capacity: 1.92 TB
MU – 3 DWPD, min capacity: 1.6 TB