Ease of Management
Default Policy Intelligence
In vSAN ESA 8 Update 1, VMware introduced a mechanism called Auto-Policy Management. It creates a default storage policy based on the characteristics of the vSAN cluster. Depending on the number of hosts in the cluster or if it's a stretched cluster.
With Update 2, there's integration with Skyline Health. Whenever Auto-Policy Management recommends a new default policy, it will now notify the user in Skyline Health. There's also a one-click solution to remediate a policy change to the new default. This feature is fully compatible with vSAN Max storage-only clusters.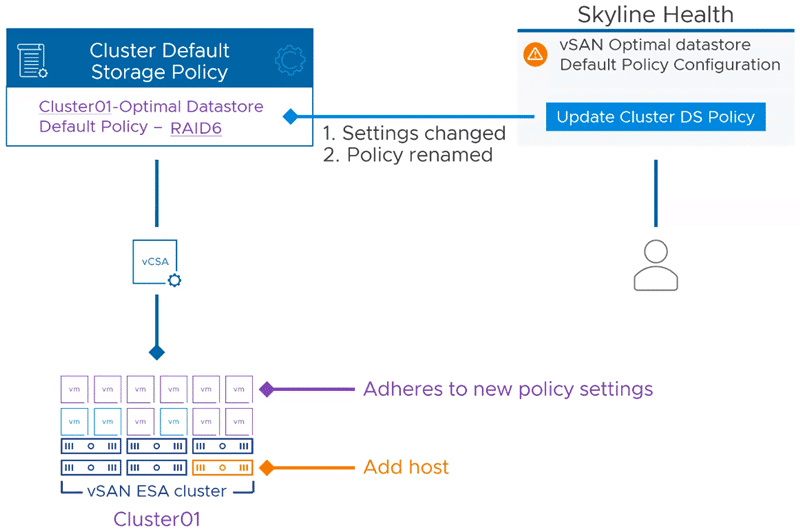 Enhanced Key Management

The Key Management Interoperability Protocol (KMIP) 1.2 provides a Key Expiration Date attribute. It defines when your Key Encryption Key (KEK) will expire. Prior to vSAN 8 Update 2, this attribute wasn't supported, so the expiration date was invisible to the user. Beginning with Update 2, this is a Skyline Health finding that alerts the user when the key expires in less than 30 days.
This is a new feature that is available for both the OSA architecture and the ESA architecture.
Skyline Health for vSAN remediation enhancements
Skyline Health's findings will provide recommendations that are tailored to the specific versions of vSAN running in the monitored environment. There will also be enhanced information on the risks of not remediating the triggered findings. Skyline Health will provide a standard and alternative solution for the identified issue.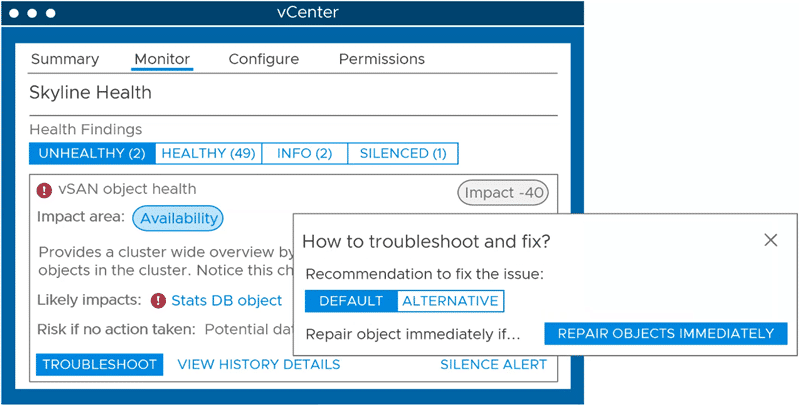 Skyline Health for vSAN introduces new health monitoring of NVMe devices in vSAN ESA. This comes in useful as there's now support for new read-intensive (RI) disk devices with less durability. It will trigger an alert when 90% wear is reached on a particular storage device.
Detecting Performance Bottlenecks
Both vSAN OSA and ESA find performance hotspots and top contributors within an environment over a customisable time period. Monitoring identifies the primary source of latency such as VMs, host front-end, host back-end or host disks.
Experiencing latency on a VM does not necessarily mean that the VM is causing the latency. The new feature will show if a VM is just being affected or causing the latency you are experiencing. You can drill down to other top contributors in the same performance view to better understand correlations.
Improved Detection of Performance Bottleneck in Stretched Clusters
There's an improved I/O trip analyser that can now be used on 2-node clusters and stretched clusters. It supports all data placement schemes such as RAID-1, RAID-5 or RAID-6. It can now diagnose stretched environments too and identify the primary source of latency:
Outstanding I/Os of an object
Site interlink
Network links within one site
Host storage devices
Easier Configuration for 2-Node and Stretched Clusters
Stretched clusters and 2-node clusters require separation of witness traffic which had to be configured on the CLI. As of vSAN 8 Update 2 this can be done much easier in the vSphere-Client UI.