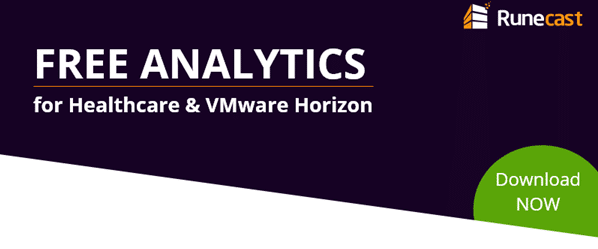 Runecast will respond to COVID-19 crisis by offering free licenses to healthcare institutions and companies with VMware Horizon.
Helping companies to protect employees by letting them work from home and thus slowing down the rate of new infections is an important step in the battle against SARS-CoV-2.
Running an Horizon infrastructure in these days is a challenge for any IT team when the workloads shift from on premises to remote access. It is also vitally important to keep healthcare infrastructures up and running. Medical staff does a very good but demanding job these days aroud the globe. But they cannot do their job without IT infrastucture. Lives depend on that. So it's a good initiative by Runecast to help making these infrastructures a bit safer.
I know a lot of people at Runecast and I'd like to express my personal thanks to everyone of them.
Not all heroes wear capes.
Free full VMware Horizon insights for EVERYONE
Work from your home office without any limitation.
Who does this apply to? Any organization running VMware Horizon that needs better tools or solutions for visibility into VMware Horizon environments (for remote office enablement).
How does it work? You'll have full & immediate visibility of your VMware Horizon issues during the 14-day trial period. After the standard Runecast Analyzer free 14-day trial, Horizon issues analytics will continue to work for you until 15 September 2020.
Enable VMware Horizon scans now
Free full license of Runecast Analyzer for Healthcare institutions
Who does this apply to? IT Sys-Admins running VMware and/or AWS who need better tools or solutions for HIPAA security compliance and downtime mitigation.
How does it work? Create an account and send an email to healthcare@runecast.com for license activation.
Runecast Analyzer scans VMware infrastructures for known issues against the VMware-KB, checks hardware compatibility against HCL and compares current settings with VMware best-practice-guidelines and security baselines like DISA STIG, PCI DSS or HIPAA. The most recent version 3.1 now contains baselines from German Federal Office for Information Security (BSI). Germany is an important market for Runecast, so including BSI IT-Grundschutz (BSI IT-Baseline) was an important step to win new customers – especially in the public sector. One of the key selling points of Runecast in that market is its ability to work completely offline. No need to send any data into the cloud. You may update the appliance or get new signatures online, but you can also do this offline by mounting an ISO-image. Yes, Germany is special in that respect, but we had some…. issues.
To demonstrate all new features, Runecast will have a webinar on October 23rd 2019 at 10.00 am (CEST). Registration is free but priceless. Stanimir Markov (CEO) and Robert Berger will talk about BSI IT-Grundschutz Automation within Runecast Analyzer 3.1.
Continue reading

"Runecast 3.1 with German BSI Grundschutz compliance monitoring"