Fully automated VMware HCL checks in Runecast Analyzer
Runecast opened a beta testing program for early adopters to try their latest feature. In a future release of Runecast Analyzer users will not only be able to scan their environment against VMware KB issues, but also to check their hardware against VMware hardware compatibility list (HCL).
I've been talking a lot with the Runecast team about this 'missing' feature. Now I'm lucky to be one of the beta testers and can get a glimpse to the future. 🙂
The challenge
Getting information about software and configuration issues in your vSphere cluster is priceless. But what about hardware?
Look how a future release of Runecast Analyzer can help. It will check your current hardware configuration against VMware HCL.
New Tool
First thing you'll notice is an additional section "Hardware Compatibility" in the navigation area (red box).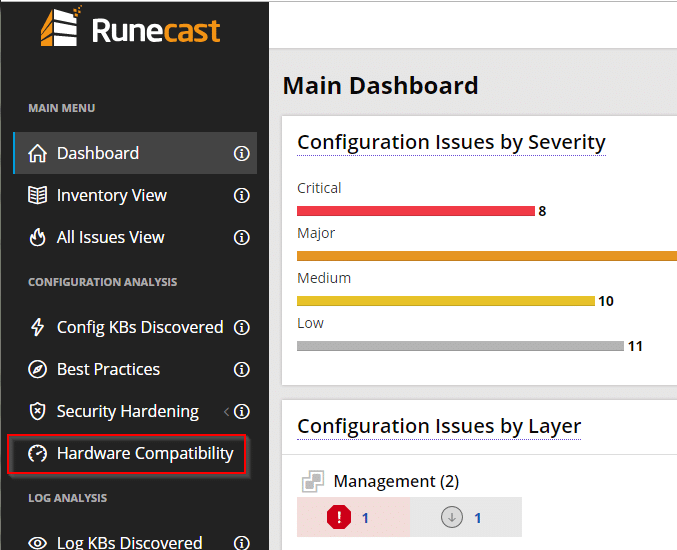 If you select it, you'll get a list of all components. It is possible to filter for those with HCL issues.
Each entry can be drilled down for details.

You'll see an overview of hardware model, vendor, specs, CPU, BIOS and ESXi release. I need to point out that the system shown here is totally not supported by VMware. Primergy RX300 S6 is a dinosaur that dropped out of HCL since ESXi 6.0. So it is no wonder that Runecast Analyzer is full of red alerts. But a beta test with brand new hardware is rather boring. I think the developers are more interested in hardware with compatibility issues.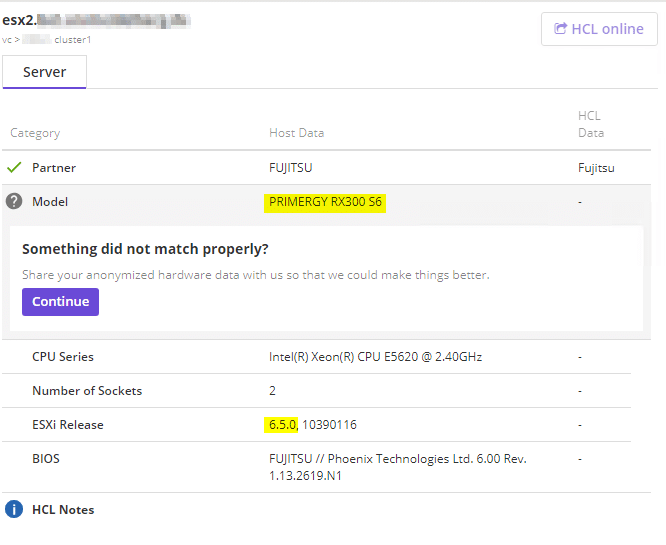 There's also a button "HCL online" which is not yet usable in the beta. I guess it will teleport you directly to VMware HCL with further information to your selected hardware.
Export
Of course you can export all findings into a CSV table too.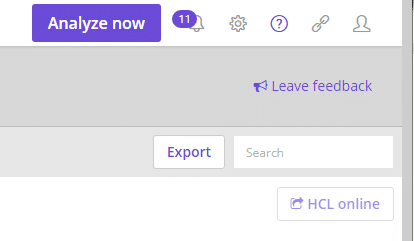 Help to improve the system
Somehow I managed to confuse the system with my old hardware setup. In such cases you're asked to give feedback and leave your email address. Developers might get in contact with you and ask for further information to make the program better.

Wishlist
Scanning the present state of a cluster against compatibility issues is great. Imagine you're planning to upgrade hosts in your datacenter to a higher version of ESXi. Today you have to (you really should) go to the VMware HCL and check each server model, each controller and each i/o card against the list. This can be time consuming – especially if you have different server models and/or different adapter cards. It would also be helpful to scan your hardware against planned ESXi upgrades. Let's say, your cluster is running on ESXi 6.5 and is fully supported. But will it also be supported on ESXi 6.7?
I hope to see some more details about PCIe cards in the server. For example I have added an Intel 10 G Dualport NIC to the system, that is not shown.
Conclusion
For an early beta the new features look promising. With Hardware Analysis Runecast Analyzer really fills a gap in visibility.