There's an upgrade track from VCP6-NV to VCP-NV 2019 without taking an exam. It's not easy to find this possibility. I will show all necessary steps to take and would like to thank Tim Burkhard (VMware Education Team), who pointed me into that direction.
Certification Walkthrough
First you go to VMware-Education and choose the VCP-NV 2019 track. Depending on your current certification status track requirements will be different. Only if you're holding a current VCP6-NV certification, you're able to upgrade without an exam. All others will have to pass the exam.

Choose VCP6-NV in the dropdown menu and read the requirements.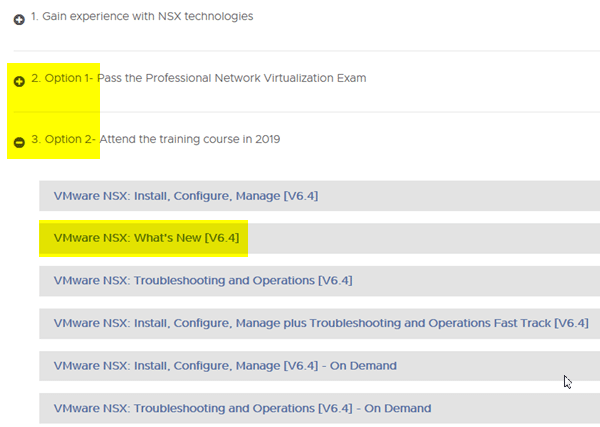 Needless to say that you should fulfill point 1. But as you're holding a VCP6-NV certification I expect you to have experience with NSX technologies. 😉
Point 2 and 3 are alternatives. Either you choose point 2 or point 3. Point 2 leads to the new VCP-NV 2019 exam. That's a possible way but not necessary and it will cost the usual exam fee. Point 3 has six sub-requirements and you'll need only one of them. The only requirement that will be free of charge is the 10 hours course VMware NSX: What's new [6.4].

Select it and add the course with "Register Now" to your myLearn portal. You can find it at myEnrollments / Current Enrollments. There you can start the course by clicking "Begin".
In numerous short videos you'll learn about new features and changes in NSX-V version 6.4. You may stop, resume or repeat any of the videos. It's mandatory to watch all videos in order to have all of them checked with a green mark. It's important that you finish the course at myEnrollments / Current Enrollments by clicking the "Finish" button. Shortly after you'll get a badge notification by Acclaim.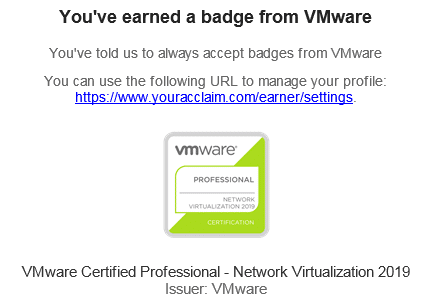 A bit later (1-2 days) you'll get an email by VMware Education Services too.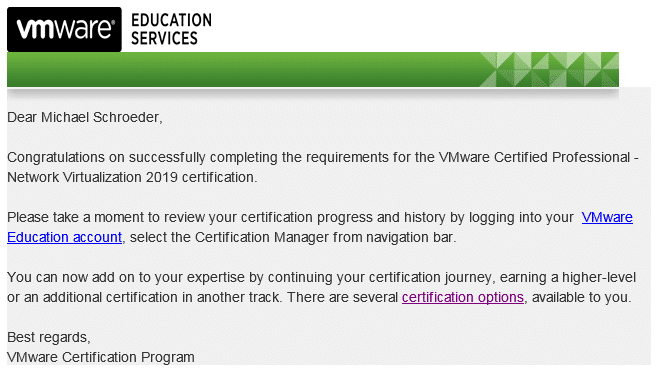 Mission accomplished! 🙂