Servers and switches are built for use in data centers where noise pollution is only a minor issue. The focus is on maximum performance and cooling. In the Homelab, however, things look different. Server rooms in private households are probably the exception and so most homelabs are located somewhere near the desk. A case fan with high speed can be very annoying.
For my vSAN cluster I use a Netgear XS716T 10 Gigabit switch. During system startup the fans rotate at maximum speed and then settle down a bit in normal mode. But even the lower noise level is still annoying.
We need new fans
As part of a handicraft experiment, I tried to get the noise problem under control and bought some Noctua fans which are popular in the homlab scene. The Netgear switch is equipped with two 40 mm fans. These will be replaced by two Noctua NF-A4x20 fans. A simple exchange would be somewhat unsatisfactory, though. There should be at least some kind of quantification (just a science habit).
In the picture below you can see the original fans of the Netgear 10G switch. The 16-port model is equipped with two fans while the 8-port model has just one.
Disclaimer No.1: Before removing the casing cover, the power supply must be disconnected!
Disclaimer No.2: Opening the casing may void your warranty.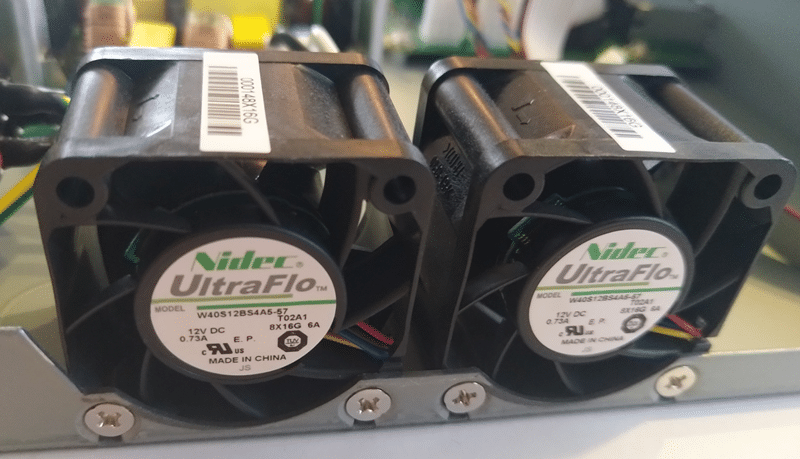 Let's have a look at the kit. You will not need all items. [1] Noctua fan with short connector cable. [2] Extension cable (30cm) with connectors. [3] Mounting screws. [4] Y-cable for environments with just a single connector that need to be extended with an additional fan. There's also a rubber attachment kit (will not be used), a short connector extension and an omnijoin adapter with free wires (upper left).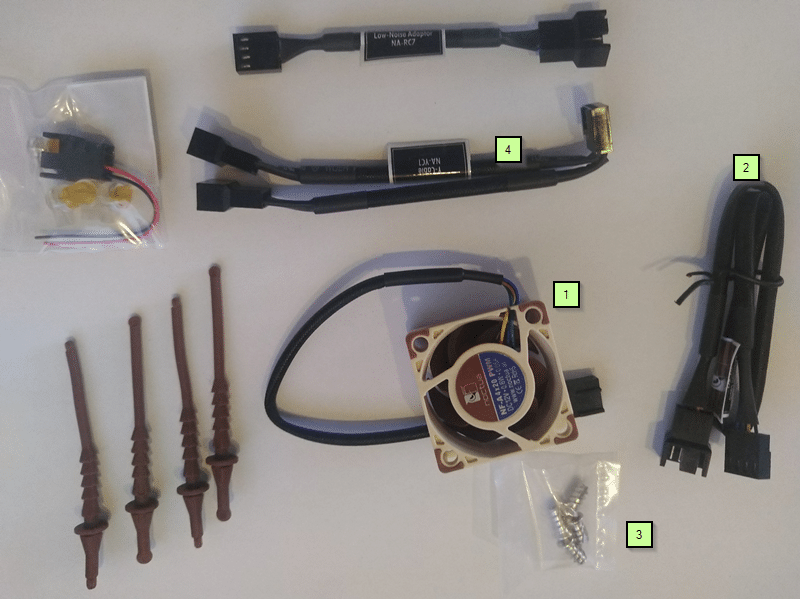 Installation is fairly easy. Just unplug the connectors of the old fans from mainboard and unscrew fans. Remove the connection cable from the cable guide and take out the old fans.
Use the supplid mounting screws for the new Noctua fans. The old ones probably won't fit. Make sure the airflow goes to the right (designated) direction like indicated by the green arrows in the picture below. Attach the cable to the cable guide (white bracket) and connect it to the mainboard (red box). The 16-port model has a larger mainboard, so you won't need a cable extension.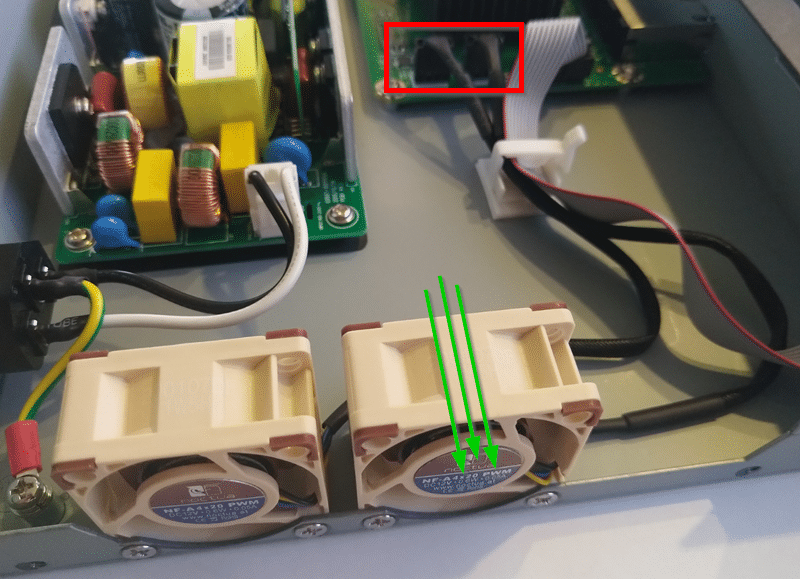 Besides the 16-port XS716T also the 8-port switch XS708T was equipped with a new fan. It has only one fan while the 16-port switch is equipped with two of them. Despite of having just one fan, it is still noisy.
As you can see in the picture below, there's a longer distance from fan to mainboard, becase the XS708T mainboard is simply smaller. You'll need a short extension to reach the mainbord plug (green arrow).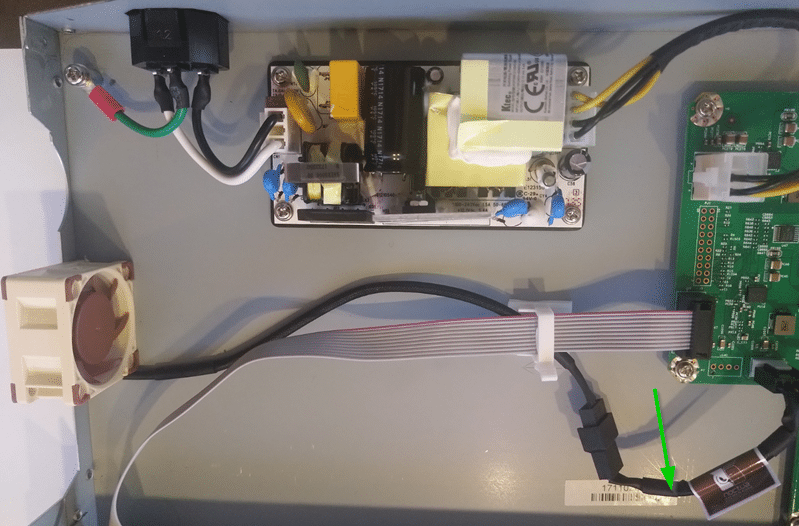 Measuring noise level
I don't have calibrated instruments and facililties to make absolute noise measurements. Therefore the values in the table can just be regarded as relative values towards each other, because they were taken under the same conditions.
I took measurements of both switch models in a distance of 20 cm and 100 cm from air exhaust. Both with original (ori) and new fans at full speed and normal speed. All values in [dB].
| | | | | |
| --- | --- | --- | --- | --- |
| [dB] | full | full | norm | norm |
| Distance | 20 cm | 100 cm | 20 cm | 100 cm |
| XS708T ori | 78 | 14 | 45 | 14 |
| XS708T noctua | 18 | 10 | 11 | 11 |
| XS716T ori | 79 | 58 | 49 | 14 |
| XS716T noctua | 23 | 18 | 17 | 16 |
Background noise: 10 dB
Room temperature: 25°C
The results were surprising. While booting the switch I thought the fans were DOA, because I diddnt hear them at all. Under normal operating conditions they're hard to distinguish from background noise. Even during boot sequence when fans rotate at full speed they're still very silent. Noctua datasheet declares model NF-A4x20 PWM with 14.9 dB.
Conclusion
Since the switches have been equipped with new fans, working in the lab is much more fun. Noise has been reduced significantly.