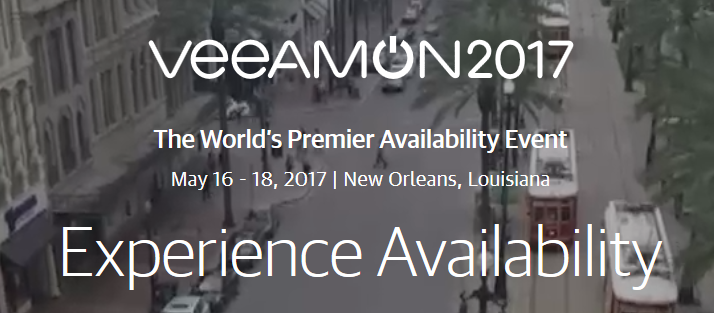 Let's go to NOLA!
After visiting several domestic VeeamONTour and VeeamON Forum conferences in recent years, it was time to take a big leap across the pond towards NOLA, or The Big Easy as some folks like to call it.
Starting Tuesday 16th of May I will blog live from Ernest N. Morial Convention Center in New Orleans. Stay tuned for latest news and announcements.
Experience Availability
Experience Availability is this years headline.  And isn't it a remarkable concidence that, just a couple of days before the convention a massive wave of ransomware attacks occured worldwide, revealing that so many companies and organizations  have no reliable backup or recovery plan.
[Update Mon May, 15th]
I've arrived on Sunday 14th with two colleagues @NOLA. Fairly jet-lagged (7 hours behind CEST) we've explored the city today. (It's a smart idea to have at least one day between arrival and the beginning of the convention). We've walked many miles, took hundreds of pictures, had a gumbo, some beignets and took a steamboat tour on the river. What a wonderful city! And yet more to explore. Tonight we're going to meet some Veeam geeks at the vBeers meeting.
[Update Tue May, 16th]
VeeamON2017 – go!
9am: The show is about to begin.

The general session and keynote was presented by Peter McKay, Danny Allan and Kevin Rooney. The audience was given a vision of where Veeam is today and where it's going to be within the next 5 years from now. There have been some changes in the executive board and other key positions. Danny Allan was hired in January 2017 and is responsible for cloud services and alliance strategy. Peter McKay came from Vmware last year and is now president and COO.